Default Blog Image Size
If the width of your blog is less than 600px wide, you have likely noticed that images inserted into the articles are larger than the width of the column. Although you can drag the corners of the images to resize them down to the correct size, it's difficult to know the exact width to size down to.
Well now you can set the max default blog image size in the preferences link under "edit blogs". Simply set a max size (in pixels) and images will automatically be sized down the next time you insert new images to your blogs. If this does not apply to you, simply leave it blank. Contact us if this applies to you and you don't know the size that it should be.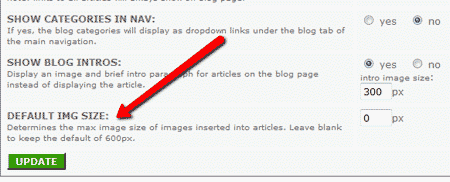 Dec 7, 2012
by