Easily cancel events or convert to webcast
COVID-19 has disrupted life in many ways, including forcing events to be cancelled, postponed, or moved online. On March 16th, 2020, schema.org
announced
new updates to assist event organizers with getting info out about events that have changed. Today, Google announced the addition of these schema updates to their platform to assist in showing users the latest, most accurate information about events in Google results. And now, we are happy to announce that we have integrated these changes into the event module of the OcularCMS
®
platform.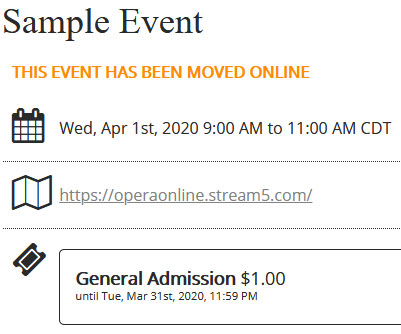 There is now an Event Status field with the following options: scheduled, rescheduled, postponed, moved online, and cancelled. The "scheduled" status is the default for all events. The "postponed" and "cancelled" statuses will display a message on the registration page and will disallow registrations. If an event date is changed, the "rescheduled" status should be used. And finally, if an in-person event is changed to a virtual meeting, the "moved online" status is used and a message is displayed along with an optional link to where the online meeting will take place.
The presence of theses statuses in the page schema will inform Google of any sudden changes to the events, and as such, Google will quickly update the event listing in their search results.
To use this new feature, simply edit an existing event.
As this virus continues to disrupt daily life, we aim to assist in any way we can to make life a bit easier and more productive. Stay safe and well!
Mar 19, 2020
by