Event check-in auto update and offline mode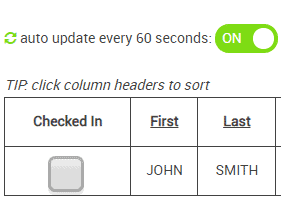 The event check-in page has been updated to allow for syncing across multiple devices, and storing of data in the event of a lack of internet connection. Simply turn on auto updates and the page will update itself in the background, always staying in sync with other devices that are also tracking check-ins. And if internet access is temporarily lost (or not found at all), it will continue saving data locally on the device and will re-sync when a connection is made again.
To start offering event registration features on your website (and many other features) check out our
Premium Productivity Tools
.
Mar 8, 2019
by