Request payments from customers
In addition to being able to securely accept payments directly on your website with the new
payments page
, you can now also easily send a payment request link. This comes in handy if you would like to ask a customer to pay an invoice, renew a membership, or even make a donation. When they click on the link, they're taken directly to the payments page on your website with the amount and memo already filled in.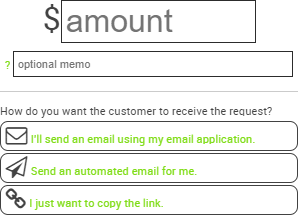 To use this new feature, simply click the triple-dot menu while in editMode and click "request payment". You have three options to send a link: 1) send via your own email application (e.g. gmail, yahoo, outlook, etc), 2) have OcularCMS
®
send it on your behalf, or 3) copy the link and you send however you'd like (e.g. text, chat, email, etc).
May 14, 2019
by